Bottled Water
The Best Bottled Water in Town!
Village Spring water from Avery's Beverages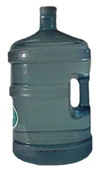 Real Spring Water from right here in Connecticut. Not filtered tap water and not trucked in from another state. Only $5.75 for a 5 gallon bottle delivered to your home or office.

Cooler Rentals avaliable.

Own your own cooler? You can still buy our Spring Water at the same low price!
---

WOOF WATER
Hydration for Hounds and Humans. Our own bottled water for dogs and the people who love them.

A portion of this proceeds will benefit Our Comapanions Domestic Animal Sanctuary
---
Private Label Water

Avery's Beverages can produce custom labeled water for schools, sports teams, fundraisers, corporate events, stores and restaurants. Available in 16.9 ounce (1/2 liter) bottles.
Minimum quantities start at 60 cases (24 bottles each). Call for more details.
Find Us:
Avery's Beverages
520 Corbin Avenue
New Britain,CT 06052

Call us! (860) 224-0830